What can we expect to see of Windows 7 at the upcoming Microsoft Professional Developers Conference (or PDC) next week? I take a sneak peak at some of the features or improvements leaked, discussed or presented the last couple of weeks. This list isn't accurate as Microsoft has deliberately been quiet about Windows 7 and its main features. Expect to hear about most of the following article next week when Windows 7 is officially uncovered to developers, IT pros, the press and the rest of the public at Microsoft PDC 2008!
Note: This article was written just before the official unveiling of Windows 7. The following notes and features are based on speculations, rumors, leaked information and screenshots. This article is made in partnership with Microsoft oriented weblog Bink.nu. Credit given where credit is due.
Will Windows 7 get a cool new user-interface in terms of graphical overhaul?
Nope. Microsoft did officially state they won't be changing the UI a lot (like they did when moving from Windows XP to Windows Vista) as, although very cool, most people get scared when seeing a new UI. The average user or users with less computer experience had some trouble adapting to the (rather minor, in my opinion) changes Windows Vista brought. So be prepared to be let down when it comes to the graphical appearance of the system itself if you were expected something better / newer / nicer. They are however putting some effort into making the experience more uniform across the system.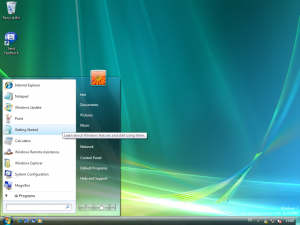 [http://screenshots.winfuture.de/1223485042.jpg, credit: WinFuture.de]
I hate User Account Control (UAC) in Vista! Are they going to change that at all?
Nope. UAC as designed is a basic security and permissions/access design that should be implemented in every modern day operating system. Linux and Mac OS X have had this design for ages now, separating users from admins and raising privileges on the spot when needed. In some of the latest leaked screenshots, it showed Microsoft is however working on refining the user experience when using User Account Control. It showed a configuration panel allowing the user to set when and how the user should be notified of UAC notifications. Also note that Microsoft is very much paying attention to the general public on this issue. Based upon user input when Vista launched, Microsoft refined UAC in the Windows Vista Service Pack 1 release.
Will Windows 7 have a completely new and rewritten kernel powering the OS giving us more power?
Nope. Microsoft stated on their official Windows 7 blog they won't be bringing a brand new kernel to the system as it's simply not needed. The current NT kernel is just fine and, although people like to think otherwise, is fairly fast. They (Microsoft) did say they are brining improvements to the kernel as always. One should also consider the compatibility issues created when changing some as fundamental as the Windows kernel itself.
[http://windowsvistablog.com/blogs/windowsvista/archive/2008/05/27/communicating-windows-7.aspx]
(Story continues after the break! Please read on for more information)